2017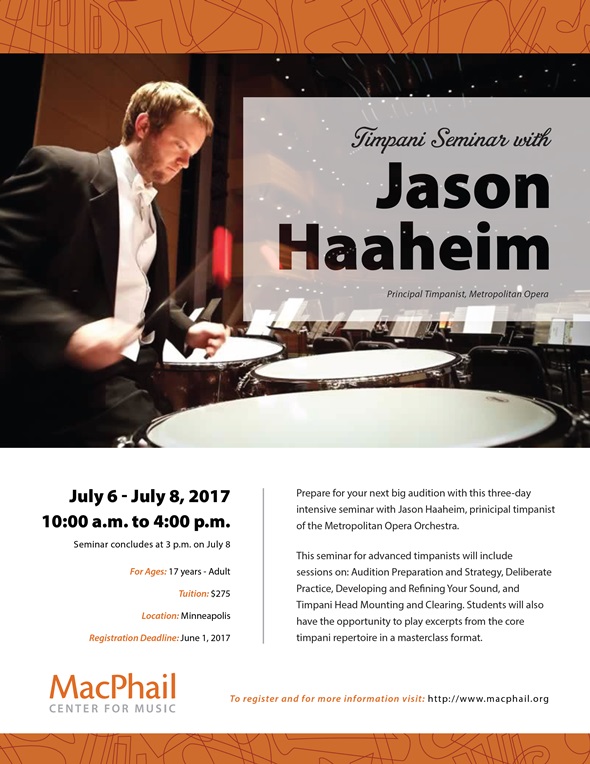 I'm thrilled to be returning to my native Minnesota to host this three-day intensive seminar. Are you a timpanist aspiring to hone your approach to excerpts, audition-taking, and refining your sound? I'm bringing my custom sticks and my personal set of Adams Dresden Classic timpani at this seminar, so this is for you. Are you a dedicated high school or college-level percussionist intent on refining your practice room process? This is for you. Do you want to learn more about how efficient practicing is the cornerstone of an effective audition process? Then the Northland Timpani Summit is definitely for you.
We'll be including sessions on: Audition Preparation and Strategy, Deliberate Practice, Developing and Refining Your Sound, and Timpani Head Mounting and Clearing, and much more. Students will also have the opportunity to play excerpts from the core timpani repertoire in a Master Class format. Click here for a pdf of the daily schedule. We've also recently added a July 7th afternoon/evening event which will be a round table dinner with area pros and expert auditioners:
Peter Kogan (Minnesota Orchestra former principal timpani)
Jason Arkis (Minnesota Orchestra assistant timpani / percussion)
Kevin Watkins (Minnesota Orchestra section percussion / timpani substitute)
Robert Adney (MacPhail Center for Music)
John Jutsum (Madison Symphony principal timpani)
Alex Wadner (recent multi-audition finalist, St. Paul Chamber Orchestra timpani substitute, former New World Symphony principal timpani)
We'll all get together for a relaxed hang, lively discussion, and sharing of different perspectives.
Tuition ($275) covers the cost of the seminar. Out-of-town participants are responsible for finding their own hotel accommodations and meals. MacPhail is located in downtown Minneapolis within walking distance of light rail transit for easy transportation to and from the airport. For registration information, please visit the seminar page on the MacPhail website.
Please be in touch with any questions, and we look forward to seeing you in Minneapolis this summer!
Generous Sponsorship Provided by: