2018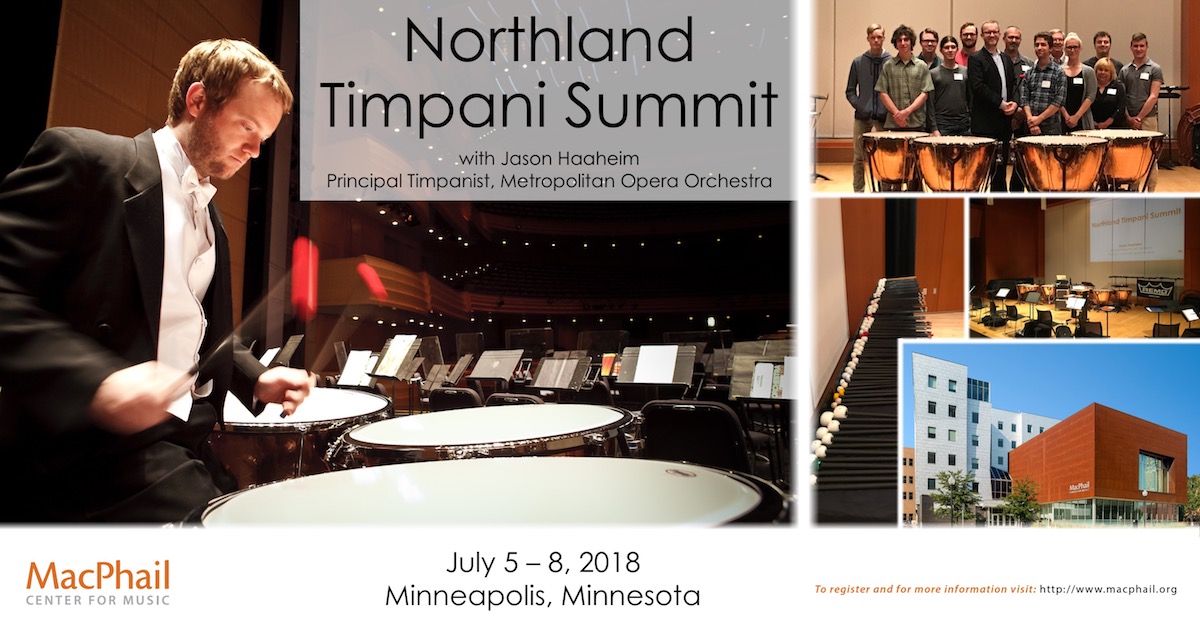 Are you a timpanist aspiring to hone your approach to excerpts, audition-taking, and refining your sound? The Northland Timpani Summit is for you. I'm thrilled to be returning to my native Minnesota to host this four-day intensive seminar. We'll have MacPhail's beautiful recital hall all to ourselves for 4 days, loaded with a staggering buffet of 5 sets of timpani — my personal Adams Dresden Classics, Alex Wadner's Walter Lights, a set of Adams Professionals, and Peter Kogan's Klassichewienerpauken and Hessishce Barockpauken. Mr. Kogan will present a special guest presentation on historically informed performance. I'll also have a ton of my custom timpani mallets available to try. Over 4 days, we'll dig deep into all aspects of professional timpani and auditioning, including sessions on: Timpani Fundamentals and Technique, Developing and Refining Your Sound, Timpani Head Mounting and Clearing, Deliberate Practice, Audition Preparation and Strategy, Peak Performance Psychology, and much more.
Attendees will also be encouraged to perform excerpts from the core timpani repertoire for the group in a masterclass format. And we're including an evening dinner/hang with area pros and expert auditioners; Peter Kogan, Brian Mount, Jason Arkis, and Kevin Watkins (all from the Minnesota Orchestra), John Jutsum (Madison Symphony), Alex Wadner (New World Symphony, and recent multi-audition finalist)…all will join us for a relaxed hang and sharing of different perspectives. Please consider joining us in Minneapolis this July!
Click here for a pdf of the daily schedule. The Deliberate Practice Bootcamp is included in the cost of registration, and participants are highly encouraged to attend these sessions; subsequent topics in the Northland Timpani Summit will assume that attendees have experienced the Bootcamp.
Generous Sponsorship Provided by: