2019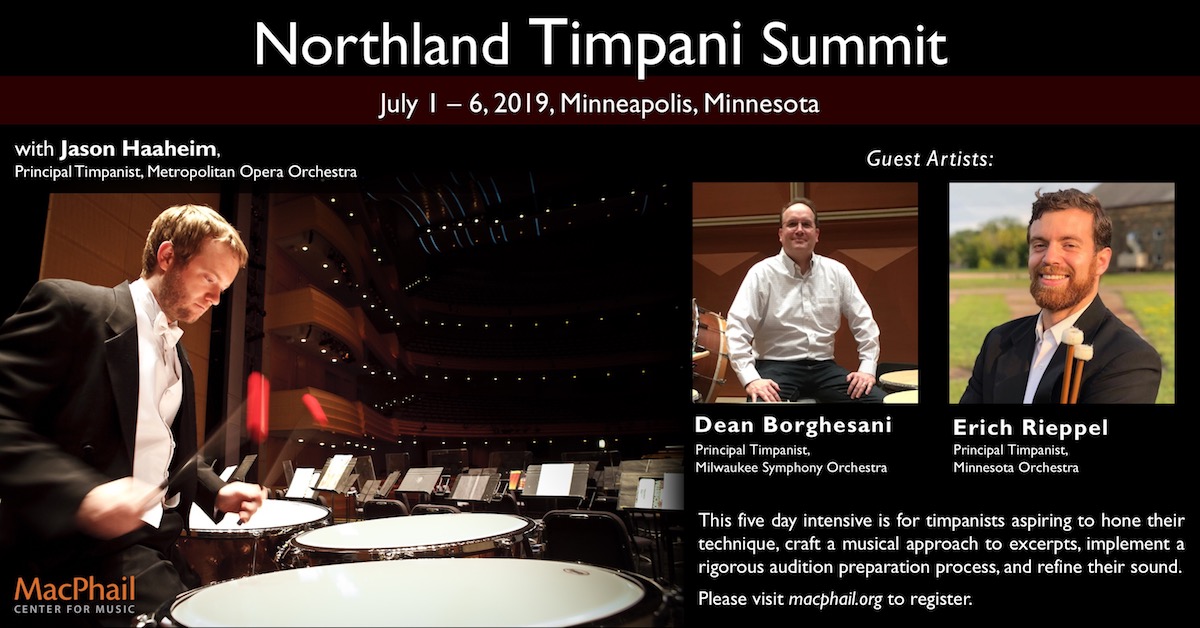 Are you a timpanist aspiring to hone your approach to excerpts, audition-taking, and refining your sound? The Northland Timpani Summit is for you. For 2019, we've expanded our offering to a 5-day intensive (July 1, 2, 3, 5, 6) based on popular demand. We'll have MacPhail's beautiful recital hall all to ourselves, loaded with a buffet of different timpani. Guest artists will include Dean Borghesani (principal timpanist, Milwaukee Symphony), and Erich Rieppel (principal timpanist, Minnesota Orchestra). I'll also have a ton of my custom timpani mallets available to try. We'll dig deep into all aspects of professional timpani and auditioning, including sessions on: Timpani Fundamentals and Technique, Developing and Refining Your Sound, Timpani Head Mounting and Clearing, Deliberate Practice, Audition Preparation and Strategy, Peak Performance Psychology, and much more.
Attendees will also be encouraged to perform excerpts from the core timpani repertoire for the group in a masterclass format. And we're including an evening dinner/hang with area pros and expert auditioners, giving students the opportunity for a relaxed hang and sharing of different perspectives.
Moreover, the Deliberate Practice Bootcamp is included in the cost of registration! Open to all instrumentalists, the Deliberate Practice Bootcamp evolved out of a one-of-a-kind semester-long class which I teach at New York University. While that course was years in the making, Bootcamp attendees will get the "best of" material distilled into two intense evenings. The Bootcamp will refine your practice room process, crafting efficient practicing as the cornerstone of your effective timpani auditioning process.
Please consider joining us in Minneapolis this July!
Northland Timpani Summit Testimonials:
"Jason's Timpani Summit last year made a HUGE difference in how I tackle the audition process. I credit the implementation of Jason's deliberate practice and organizational concepts as major factors in my recent audition successes. The detail of the presentation — in both theory and execution — taught me so much and gave me all the information I needed to tailor together a vastly more effective preparation process."
~Alex Wadner — former principal timpanist, New World Symphony; consistent timpani audition finalist, and trialist with Minnesota Orchestra
"The Northland Timpani Summit was one of the most beneficial seminars I've ever attended. It gave me the tools to overcome self doubt and revolutionize my practice. After attending the seminar, I advanced at 4 auditions in a row from not advancing at all, and was able to effectively apply the knowledge in preparation for 7 auditions."
~Alex Artale — principal timpanist, Boise Philharmonic
Deliberate Practice Bootcamp Testimonials:
"Jason Haaheim's teaching methods are not only for timpanists and percussionists, but apply to any musician trying to attain the highest level of performing. In fact, his principles could likely be applied to any number of professions outside of music. I was very taken with his straightforward approach, addressing all aspects of achieving excellence without it seeming daunting. If I were thinking of auditioning for an orchestra, or simply wanted a great method to gain consistency of a high level, I would sprint to this boot camp!"
~John Rojak — bass trombonist of the American Brass Quintet, NYU Professor of Trombone
"Jason Haaheim's presentation to our NYU undergraduate performance majors — woodwinds, brass, strings and percussion — was GREAT: an over-the-top hit with our students and faculty! Jason's multimedia approach to how to practice effectively, referred to as the 'Deliberate Practice Bootcamp' was one of the most inspired, intriguing and informative classes I have ever attended. Using scientific methods to perfect his art, he will show all who attend his classes the pathway to effective auditioning, performing, and success."
~Matt Sullivan — NYU Director of Wind Studies and Professor of Oboe
"After working with Jason, my preparation and productivity had such a huge overhaul that I've improved more in the last two months than in the last two years."
~Georgia Williams — principal flute, Opera Australia Orchestra
Generous Sponsorship Provided by: