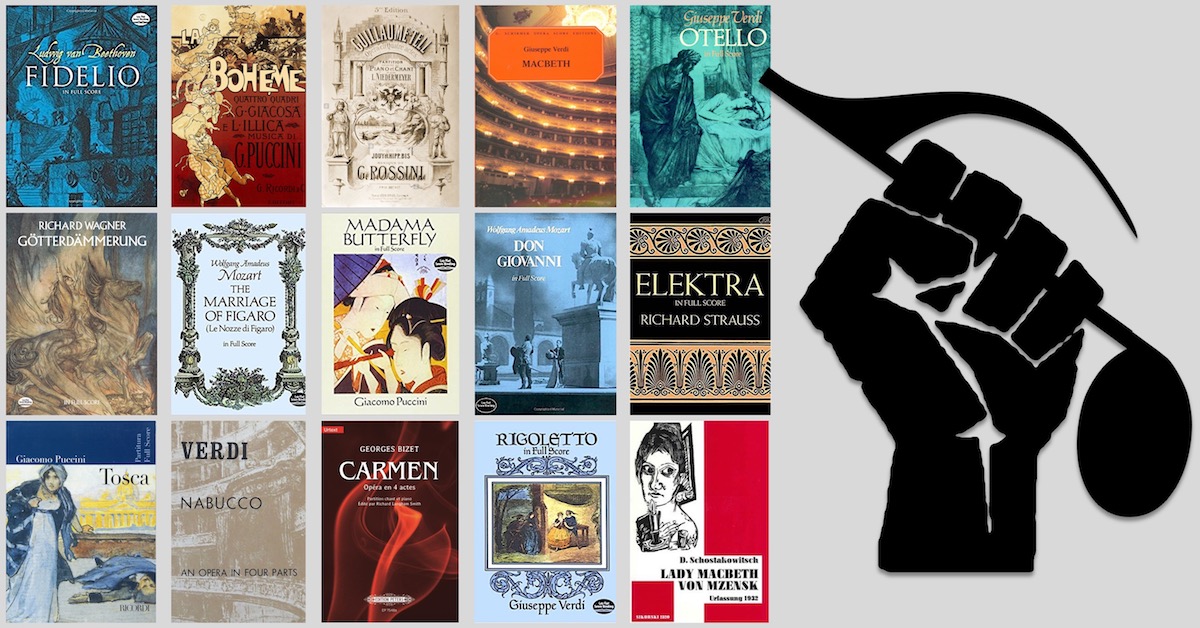 On election night, November 8th, 2016, I wrote the following in my journal:
"Tonight all opera became subversive art."
As the broadest protests in U.S. history have righteously erupted in every major city and many more around the world, I had that journal entry in the forefront of my mind when I posted this on social media: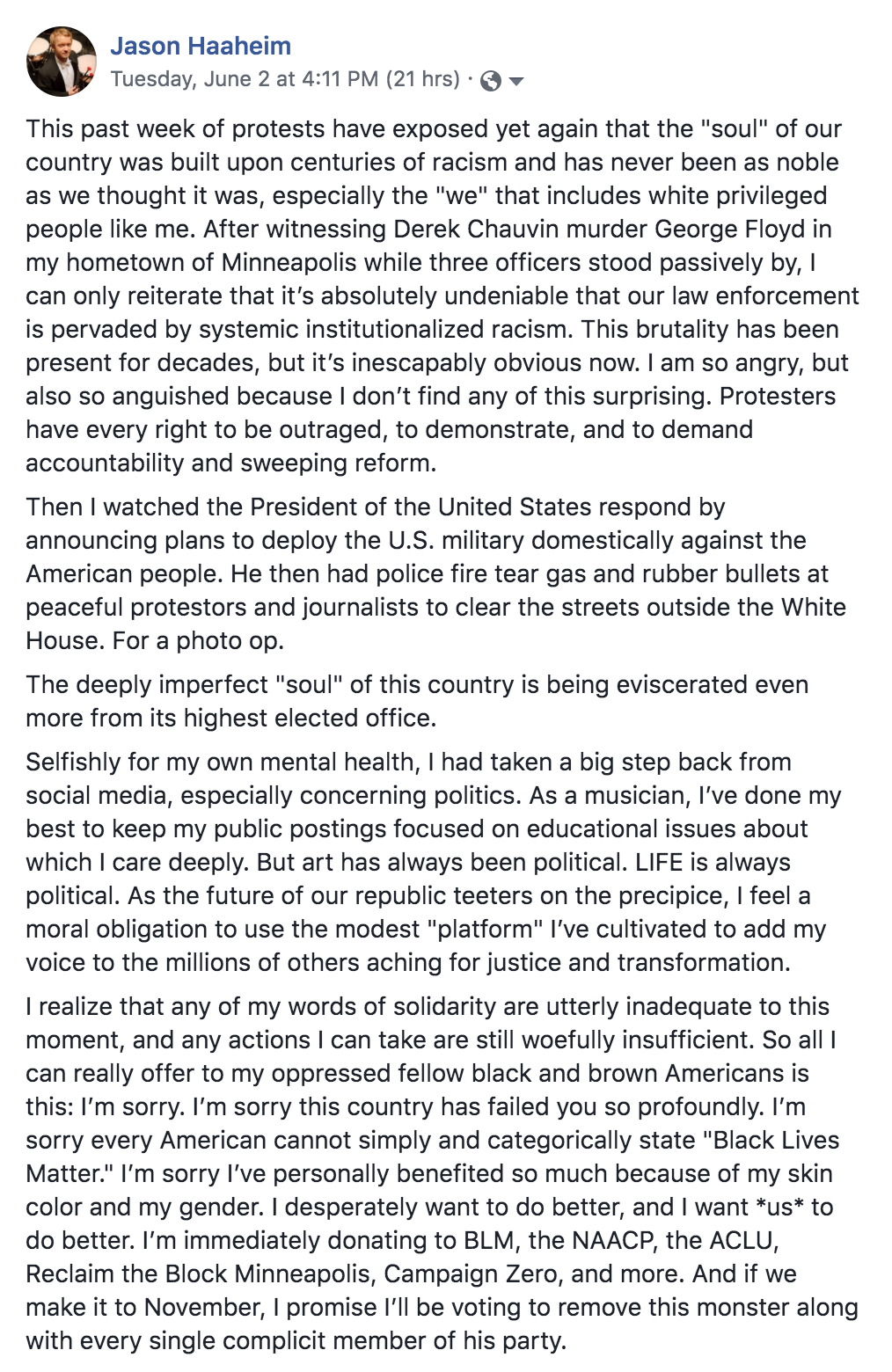 I stand by every word of that post.
While I do not intend to refashion my online presence for exclusively political commentary, I believe a moment like this calls us to confront our fields' deeply rooted scourges of racism and injustice. I'm writing this because I feel it's important, and because I believe we have an unparalleled opportunity for profound individual and institutional change. Besides, art and politics have already collided throughout the performing arts: we MET Orchestra Musicians remain jobless right now as a direct consequence of Covid-19 and the Trump administration's ongoing failure to respond or plan for it. This is not my opinion, this is just a simple fact. So, I cannot in good conscience continue writing about art, opera, deliberate practice, or music education without acknowledging these realities.
Even though our Before-Times schedule at the Met was grueling, I miss it like hell. Being forcibly separated from performing has created a void not just of time but also of purpose. But throughout these crises, and intensifying since George Floyd's May 25th murder, that void has been filling with an inrush of introspection about our roles as artists in this moment. For the last 3.5 years, I've felt that every note I played was an act of defiance, and watching so many fellow humans-of-conscience take to the streets crystalized something for me: opera can and should be a powerful force for social justice.
Are Opera Companies Living up to Their Missions?
I'm going to issue two huge caveats here:
#1: I am not going to defend performing arts institutions. They have consistently not followed through on being a powerful force for social justice. Throughout opera companies and orchestras, systemic racism exists, and it is indefensible. The Met itself shamefully waited until 1955 to break the color line and invite Marian Anderson to perform, and it was national news in 2015 when a new production of Otello didn't use blackface. Representation in U.S. performing arts institutions remains a gaping, untenable, unforgivable problem. Orchestras and opera companies are not doing anywhere near enough to grapple with this, either on the side of the repertoire they program, the composers they commission, the performers who play and sing, or the administrators who make many of those decisions. Many other organizations and individuals speak to these issues of diversity and representation with greater legitimacy, force, eloquence, and understanding than I can possibly offer. But let me be clear: performing arts institutions' status quo is disgraceful.
It's worth noting how unfortunate it is that in my seven seasons thus far at the Met, we've not performed a single work by a black or brown composer, either as fully staged operas or as symphonic works on stage at Carnegie Hall. The Met stakes its reputation on being the worldwide hub for opera at the highest possible artistic level, but it becomes difficult to defend that claim with such a gaping hole of programming. And it's not for lack of repertoire: the works exist. It's just that the Met's gatekeepers have chosen not to stage long-ignored operas like Scott Joplin's Treemonisha, H. Lawrence Freeman's Voodoo, Shirley Graham Du Bois's Tom-Tom, James P. Johnson's De Organizer, William Grant Still's Highway 1, USA, Anthony Davis's X: The Life and Times of Malcolm X, Leroy Jenkins's The Mother of Three Sons, or Anthony Braxton's Trillium J.
And when it comes to the MET Orchestra's symphonic concerts, there are even fewer programming hurdles since these decisions are essentially cost-neutral. It's an easy shift: there's no collective bargaining agreement to renegotiate, nor multi-year advanced singer's contracts to reshuffle. There's just no good reason our next Carnegie Hall performances couldn't include works by William Grant Still, Samuel Coleridge-Taylor, George Walker, or Florence Price. And that's just for starters.
Just as Mark Twain penned a condemnation of racism in The Adventures of Huckleberry Finn, we should also be featuring black stories regardless of the composer's skin color. Gershwin's Porgy and Bess is certainly the most well known in this vein, but Richard Danielpour composed Margaret Garner with a libretto by none other than Toni Morrison, telling the story of a runaway slave who would rather kill her children and herself than be forced back into slavery.
I often wonder, "What would happen if boards and managements priced in the actual externalized costs of non-diversity?" How much revenue is being left on the table by not substantively reaching out to communities of color? How many donations has the Met missed out on due to the homogeneous composition of our board? And how many progressive decisions have gone un-made due to the lack of diversity at those meeting tables? My friend Weston Sprott, Met trombonist and dean of Juilliard's preparatory division, notes that organizations need to "realize it's not that they need to help out [people of color] and bring us into their organization so we can be as good as they are — it's the fact that they cannot be the best they can be without us."
And it's no secret that the Met Opera has not been "the best it can be." The #BlackLivesMatter and #MeToo movements find common cause seeking systemic reform to enforce accountability on the privileged and powerful. Throughout the last three years, my experiences of operas like Don Giovanni and The Marriage of Figaro have become increasingly excruciating — not because the music suffers (it remains glorious), but because their themes of unchecked abuse of power and privilege have been a little too on-the-nose at the Met. I was at a rehearsal of Figaro on December 4th, 2017, only two days after the well-known sexual abuse allegations against James Levine were finally published. And we were in the middle of a run of Giovanni when Judge Andrea Masley dismissed the defamation claims of Levine's countersuit.
October 20th, 2017, was our final performance of Bellini's Norma, an opera focused on the suffering of oppressed Gallic druids at the hands of Roman occupiers who viewed them as subhuman; the very next night, a noose was discovered hanging in the men's locker room, prompting a hate crime investigation. (The New York Times never bothered to cover this story, and it must be pointed out that the Met's general manager, Peter Gelb, is the son of the Times' former managing editor, Arthur Gelb.)
And I was behind my timpani in the pit on September 21st, 2019, watching the last time Placido Domingo would ever sing at the Met. As the corroborated allegations of Domingo's sexual harassment kept piling up, it seemed all too fitting that the staging required him to collapse to the ground, crown tumbling from his head, singing a role embodying ruthless ambition and horrific collateral damage…Verdi's Macbeth.
Much has been written about the Met's colossal failures surrounding Levine and Domingo, but I often found myself wondering if the sharpest and most insightful critiques weren't coming from the very works being performed on that very stage….
Opera as a Subversive Art Form
#2: Here's my second huge caveat: zooming in on the operatic works themselves, we must also acknowledge that the core repertoire we perform at the Met was composed by white men, most of them long since dead. Some of those works traffic in the negative racial stereotypes that were too commonplace in their day (e.g., Butterfly, Turandot), and I desperately wish our institutions would confront this rather than hide from it, offering that necessary conversation as part of the overall experience of opera. (Again, many others have ardently spoken to this vital need to confront-without-erasing.)
However, I believe this second caveat actually reinforces a broader and critical point: even within the limited perspective of white male opera composers, the works that have stood the test of time are decidedly pro-justice, pro-compassion, and pro-humanist. They are anti-tyranny and anti-brutality. Across the centuries, and both in spite of and because of our collective shortcomings, they continue speaking truth to power.
When I wrote "tonight all opera became subversive art" on November 8th, 2016, I was trying to capture how the themes of these works were suddenly at odds with not just Donald Trump but also his entire enabling political party controlling both houses of congress.
Consider the following: how many of our opera heroes or heroines consistently display Trump's most egregious qualities of callousness and cruelty? Ignorance and indifference? Craven power-madness? Malignant narcissism? Insecure megalomania? Congenital mendacity? A sociopathic inability to empathize? An authoritarian will to dominate and incite violence?
By contrast, how many iconic opera villains display those same qualities?
Buckle up.
Never-Bonaparte
Our current global protests have me thinking of one the most famous moments of political protest in western music history — when Beethoven violently scratched out his 3rd Symphony's dedication to Napoleon and replaced it with simply "Eroica."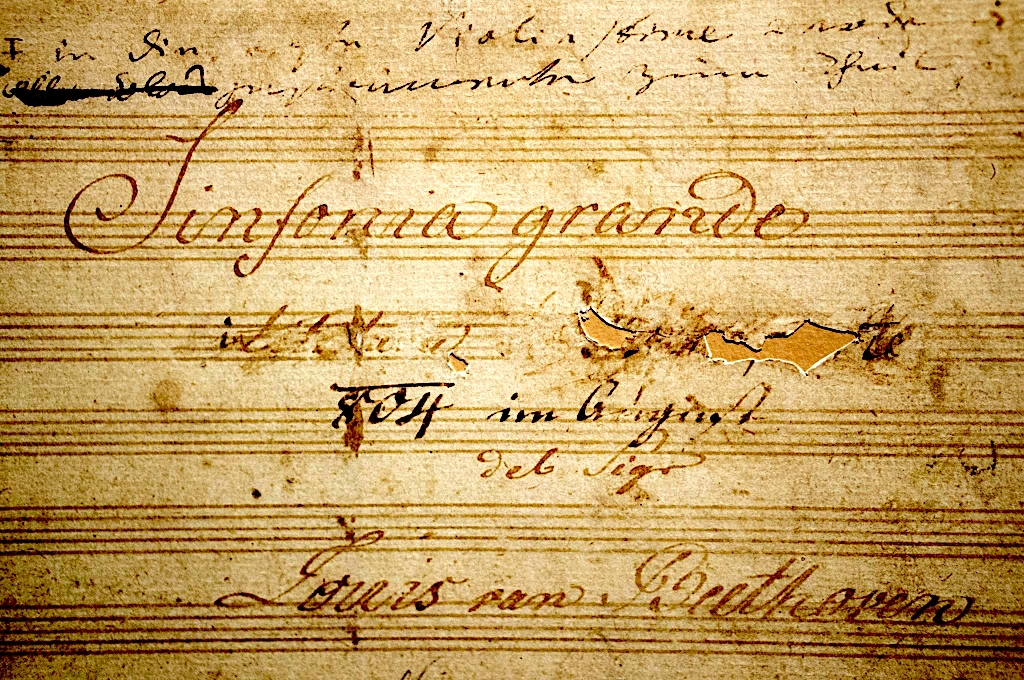 Beethoven was a consummate humanist. Like many of his contemporaries, he viewed the "First Consul" Napoleon as a leader who might bring about revolutionary change, shake up a sclerotic European aristocracy, and advance a bold new agenda. In retrospect, this was probably naive…but it's easy to understand how desperate they were, and how the future-demagogue Napoleon could have initially been seen as a wellspring of hope.
Then, on May 14th, 1804, Beethoven's secretary Ferdinand Ries apprised him that Napoleon had crowned himself emperor:
"[Beethoven] broke into a rage and exclaimed, 'So he is no more than a common mortal! Now, too, he will tread under foot all the rights of Man, indulge only his ambition; now he will think himself superior to all men, become a tyrant!' Beethoven went to the table, seized the top of the title-page, tore it in half and threw it on the floor. The page had to be recopied, and it was only now that the symphony received the title 'Sinfonia eroica.'"
It was a catastrophic betrayal, not just for Beethoven, but for all of Enlightenment Europe. (In today's parlance, you might say that's when Beethoven became a "Never-Bonaparter.")
These disillusioning real life political events informed the composition of Beethoven's only opera, Fidelio. It's an opera fundamentally about abuse of power, the needless brutality of law enforcement, human rights, and ultimately holding the powerful to account for their crimes. At its 1805 premiere, the audience witnessed the character Florestan being tortured by starvation on orders of the tyrant-governor, unlawfully imprisoned for his attempt to speak truth to power.
Now in 2020, we've witnessed George Floyd being needlessly murdered by MPD officer Derek Chauvin. As millions have taken to the streets in thousands of cities to demand an end to police brutality and systemic institutionalized racism, it's impossible not to consider that history is a flat circle — that The Arts have wrestled with these same basic issues for centuries.
Music Was Responsible for My First Political Thought
I was just a young child, but I'll never forget the roadtrip with my dad when he popped in the audio cassette of Crosby, Stills, Nash, and Young's "Ohio":
.
I didn't yet play percussion. I had no clue I'd end up playing timpani at the Met. And I had no reference point for democrat, republican, liberal, or conservative. All I knew was that this song was groovy as hell, and the refrain kept chanting "Four Dead in O – HI – O." I asked my dad, "What are they talking about?" As he described the Kent State massacre, I remember a physical sensation of burning indignation in my chest accompanied by an animating dizziness in my head: "Attacking nonviolent protesters is wrong."
The idea that art has always been political could hardly be more clearly illustrated: it was music that was responsible for my first political thought.
In my teens, on another roadtrip, I remember sitting copilot while my dad recounted more stories from his youth in the tumult of the 1960s and early 70s. And I remember commenting something like, "Wow…I'm kinda jealous of your experiences of all of that incredible change. Now the cold war is over and the 90s are boring!" After which I probably went back to listening to Rage Against the Machine's "Wake Up" on my discman, thinking "it's a good thing we don't have those kinds of problems in Minnesota."
How incredibly privileged and naive. I had no idea what our future held in store.
Art Has Always Been Political
In The Role of the Artist in the Age of Trump, Lin-Manuel Miranda writes:
"All art is political…. Art lives in the world, and we exist in the world, and we cannot create honest work about the world in which we live without reflecting it. If the work tells the truth, it will live on. Public Enemy's '911 Is a Joke,' George Orwell's 1984, Rodgers and Hammerstein's whole damn catalog — all are political works that tell the truth…. What artists can do is bring stories to the table that are unshakably true — the sort of stories that, once you've heard them, won't let you return to what you thought before."
Miranda speaks to my personal experience as a performer. There is no abstract plane in which art exists divorced from politics and human experience. There is virtually no corner of my life that hasn't been impacted by the politics of our last several years. We don't get to live apart from that world — we are in it. And we are participants in the world just as much as past composers were participants in their worlds, both reflecting and refracting their experience of those times.
"Mozart and Beethoven were trying to advance the cause of democracy and wrote music that was on the militant front lines of moving Europe forward politically," writes legendary theatre director Peter Sellars. Specific to Fidelio's implicit advocation of French Revolution principles, he notes how radically contemporaneous the work really was: "Beethoven shows his subject matter while [Paris] was still smouldering. There's no distance."
In Opera and Politics, political scientist John Bokina asserts that opera has been political since its inception. "It has reflected, in complex and mediated forms, the significant political personages and events that have shaped the modern Western world: kings and coups, classes and class conflict, rebels and revolutions."
To perform opera is to engage with those themes, and those themes are political, and have always been so, whether in Fidelio or The Marriage of Figaro or William Tell or La Bohème. To experience opera is to be faced with these themes and — whether we like it or not — to contend with our personal "walls" and "blockages" and cynical "dead-inside-ness." I've probably played Bohème over 100 times, and yet every single time I hear Marcello's "Coraggio" and Rodolfo's subsequent wails of "Mimì!…Mimì!…Mimì!…", some part of me is tapped by that basic human grief. I think to myself "why couldn't she have had better access to health care?" And then, "why still can't we have better access to health care?" And thus is one of opera's most iconic moments political. Miranda continues:
"I believe great art is like bypass surgery. It allows us to go around all of the psychological distancing mechanisms that turn people cold to the most vulnerable among us…. At the end of the day, our job as artists is to tell the truth as we see it. If telling the truth is an inherently political act, so be it. Times may change and politics may change, but if we do our best to tell the truth as specifically as possible, time will reveal those truths and reverberate beyond the era in which we created them. We keep revisiting Shakespeare's Macbeth because ruthless political ambition does not belong to any particular era. We keep listening to Public Enemy because systemic racism continues to rain tragedy on communities of color. We read Orwell's 1984 and shiver at its diagnosis of doublethink, which we see coming out of the White House at this moment. And we listen to Rodgers and Hammerstein's South Pacific, as Lieutenant Cable sings about racism, "You've got to be carefully taught." It's all art. It's all political."
We see this self-evident truth on the streets. Right now. In multitudes.
A Mirror of Humanity
As a grounding reference point I feel obligated to say this: Reader, if through all of this you still support Donald Trump, rest assured that I'm not going to spend words here trying to change your mind. I don't believe that is possible anymore. (It may never have been.) Tribal identity politics has virtually assured that those persuasion overtures are dead-on-arrival. If what we've collectively witnessed in the last four years hasn't been sufficiently persuasive, there's nothing left I can possibly add.
Instead, I offer posts like these in order to draw from my uncommon perspective — straddling music and science and the liberal arts — with the hope of broadening perspectives and deepening experiences of the music I love to perform. The Arts "are a kind of mirror of humanity," and the need for reflected human connection and compassion has never been more urgent. Just as I benefited from so many phenomenal teachers who expanded my own understanding of art's role in contextualizing our values and our lives, so too do I hope to helpfully pass along whatever I can from my own experience.
Historians often write books to explore events of history, their themes, and their meaning. Composers often compose to capture the human emotional lessons embedded in that history. Great works remind us both of our perennially woeful failings (and their consequences), but also of the values to which we must continually aspire. To be absolutely clear: I am in no way trying to assert the "superiority" of opera over any other art form or idiom. To the contrary — in my mind, The Arts need to be broadly encompassing. Claims of exceptionalism — American or Euro or any other — are perilous. But opera has had a uniquely long run: the first official opera was Monteverdi's L'Orfeo (1607), and I believe that something extremely powerful emerges when you consider the overall themes of the subsequent 413 years of western opera:
Justice, compassion, love, community, humanism…
Ensuring human rights, reducing inequality, standing up against needless brutality…
Speaking truth to power, holding tyrants accountable…
…and zero pro-Trump operas.
Justice, Compassion, and Why There Are No Pro-Trump Operas
The day after the election, on November 9th, 2016, I showed up to the Met to perform William Tell. Operating within this centuries-old art form, and playing with passion for themes that had never seemed more relevant, I felt an entirely new kinship with the Swiss freedom fighters Rossini depicts. Gesler is the sadistic governor who forces Tell to shoot the apple from his own son's head; Gesler meets his fitting end by another one of our hero's arrows, followed by the cry "Let Switzerland breathe!"
Lin-Manuel Miranda above noted Macbeth's "ruthless political ambition," but I would go even further: Trump's own former defense secretary Jim Mattis has just described the president as "a threat to the constitution." I find myself thinking of the scene in Verdi's Act IV where Macbeth's previously-loyal lieutenants abandon him as Macduff arrives for the final reckoning.
In Dvořák's Rusalka, the Prince is a callous jerk who decides to marry Rusalka, and then almost immediately ditches her for a foreign princess. (Ivana → Marla → Melania → "Stormy"….) It's similar with Puccini's Madama Butterfly, where Pinkerton is revealed as another callous dick, unmoved by the protestations of his friend Sharpless, and perfectly embodying the arrogance of an America that was only just beginning its international flex in 1904 — a characterization that remains all too valid to this day.
Shostakovich's Lady Macbeth was so forceful in its condemnation of oppressive power and policing, so graphic in its sexual depictions of the trapped Katerina, and so sympathetic to her murderous desperation, that the opera was denounced by Stalin and the entire communist party, and subsequently banned in the Soviet Union.
Shostakovich himself later orchestrated a version of Mussorgsky's opera Khovanshchina, which included the peasant's aria "Gospodi, ty s vysot bespredel'nyh." In English, that amazing Russian word "bespredel" roughly translates as "a situation when someone in power — be it political, financial, or criminal — does whatever he wants while enjoying complete impunity and getting away with it."
Elektra is 112 minutes of adrenalized madness, by turns thrilling and shocking as Strauss involves us in the drama. We become furious at the unaccountable Clytemnestra who murdered Elektra's father Agamemnon, and we're almost horrified by how much we're rooting for her brother Orestes to exact his bloody revenge.
Verdi's Aida is a black Ethiopian princess in Egyptian captivity who pleads for the freedom of her captured countrymen and women who've just been paraded across the stage in literal chains. Bizet's Carmen remains a tragically defiant heroine, yet another victim of male-perpetrated violence, but uncowed even as Don Jose murders her in the final scene. And Britten's Peter Grimes is a paranoid and power-mad sociopath, utterly indifferent to pain and suffering.
Before unspooling further examples, a reminder: I offer these observations not to shame Trump's continuing supporters, but rather to reflect on our role as artists in this moment, and to place that role within the 413 year sweep of post-Enlightenment opera. It's all too easy for high-profile musicians to sidestep this issue, claiming (essentially) that music and art needn't be sullied by politics. I can tolerate this perspective…to a point. Opera performances can't and shouldn't become as dizzying as political twitter, and musicians lacking this policy expertise can sensibly steer clear of that wonkery in their music-making.
But we must also remember that none of these performances are happening in a vacuum. Anthony McGill, my former Met colleague and now principal clarinet of the New York Philharmonic, recently described "the bubble of [our] privileged positions in American orchestras" as operating within "a culture where a silent conservatism rules the roost." It's a culture of "being quiet about everything and just playing music." He elaborates,
"One of the things we like to say as orchestra musicians is 'we're not a political organization, so we shouldn't get involved….' That's how most people lead their careers in classical music. But what we're realizing now…is that actually makes a very bold statement politically, and usually not on the right side of history."
Anthony is illustrating a textbook example of what Beverly Tatum described back in 1997:
"I sometimes visualize the ongoing cycle of racism as a moving walkway at the airport. Active racist behavior is equivalent to walking fast on the conveyor belt…. Passive racist behavior is equivalent to standing still on the walkway. No overt effort is being made, but the conveyor belt moves the bystanders along to the same destination…. Unless they are walking actively in the opposite direction at a speed faster than the conveyor belt — unless they are actively antiracist — they will find themselves carried along with the others."
Then just last year, Ibram X. Kendi formalized this in How to Be an Antiracist:
"There is no neutrality in the racism struggle. The opposite of 'racist' isn't 'not racist.' It is 'anti-racist'…. There is no in-between safe space of 'not racist.' The claim of 'not racist' neutrality is a mask for racism. 'Racist' is not…a pejorative…. It is descriptive, and the only way to undo racism is to consistently identify and describe it — and then dismantle it."
So, the idea that "music and art needn't be sullied by politics" misses two huge points: First, passive racism is ubiquitous. "The Arts" are already sullied. But, second and more hopefully, the "music needn't be sullied" perspective woefully undersells what we do at our best: The Arts offer an examination of humanity, celebrating its best parts, and soberly contemplating its worst.
And these past months have provided no shortage of "worst parts" for sober contemplation. As we enter the summer of 2020, tragedies are not waning — they are multiplying, stacked atop each other like some sort of horrific layer cake. Reflecting on my role as an artist in this moment, I keep asking myself the following: "What are the debatable details of policy?" versus "What are the fundamentals that demonstrate our core values?"
The fundamentals are where we should find common ground. The fundamentals are not what a healthy 244-year-old republic should be arguing about. As Trevor Noah so eloquently stated, "'Society' is a contract we sign as human beings amongst each other…. Whether it's spoken or unspoken, we say, 'amongst this group of us, we agree on common rules, common ideals, and common practices that are going to define us as a group.'"
Instead, we find ourselves in an intractable tribal conflict over these basic fundamentals. We evidently do not agree on common ideals, and never did. We wanted to believe we'd moved beyond George Wallace and Strom Thurmond and Nixon's southern strategy…but instead the dog whistles metastasized back into bullhorns. As Jia Tolentino writes in Trick Mirror, we now find ourselves in "a period during which American identity, culture, technology, politics, and discourse seemed to coalesce into an unbearable supernova of perpetually escalating conflict, a stretch of time when daily experience seemed both like a stopped elevator and an endless state-fair ride, when many of us regularly found ourselves thinking that everything had gotten as bad as we could possibly imagine, after which, of course, things always got worse."
Tolentino wrote those words over two years ago. Things got worse.
Democracies necessarily involve disagreement, by design, but the promise of Beethoven's Enlightenment era was that these disagreements could be bound by reason. Beyond our fundamentals, there are plenty of things upon which reasonable people can disagree — i.e., the best methods to curb climate change. But reasonable people cannot disagree on the existence of man-made climate change. (As we were performing the apocalyptic Götterdämmerung last spring, I was constantly reminded how human-created problems of extinction-level severity remain squarely in the wheelhouse of our greatest works of art.)
Similarly, there are legitimate debates about the best policies to ensure universal access to health care. But reasonable people should not be questioning access to health care as a basic human right. Again, we're right back in Bohème Act IV where Mimì basically dies of a treatable disease because she's poor. Meanwhile, Covid-19 has been exposing this same chasm as people of color are dying at rates 2-4 times the average. Reasonable people can disagree about the best long-term strategies to reckon with the coronavirus across our society; reasonable people cannot claim it's a hoax.
Most specific to our current moment, reasonable people can disagree about the best policies to address systemic police brutality, but reasonable people cannot disavow that law enforcement is pervaded by institutionalized racism. Among so many other things, hundreds of emerging videos unequivocally demonstrate the very reason people are protesting: the impunity of the powerful and their freedom to brutalize without consequence. One major difference between 2020 and 1968 is that now everyone has smartphones. But not only are we now finally seeing the brutality — it requires an especially toxic and codified impunity for police to brutalize journalists and nonviolent protesters live on the air. In 1968, Daley's Chicago police could crack skulls knowing they would never be individually outed. In 2020, police are brutalizing human beings even as they are being outed in real time. This is the very definition of impunity.
Outrage at powerful tyrants acting with impunity animates all three acts of Tosca, especially when Scarpia has Cavaradossi tortured right in front of our heroine. In Fidelio, the imprisoned Florestan sings "Most cruel torture! Oh, Heavenly Providence, how much longer will this misery last! In the bright morning of life, my liberty, alas! was lost. These chains are the reward of true and open speaking." And systemic racism is the entire basis of Otello's character, which Iago manipulates and inflames for his own gain. My future performances of these works will be accompanied in my mind's eye by the searing images of CNN's Omar Jimenez being arrested live on the air simply for being a person of color. This is the very definition of impunity.
When Trump threatened on June 1st to unleash the U.S. military on American citizens, I found myself thinking of Verdi's Nabucco, in which the King of Babylon sacks the Temple of Solomon, declares "I am God!", and deploys his forces to slaughter any resisting Israelites. He remains unaccountable until divine intervention forces his religious conversion. Our own backstop of accountability — impeachment — predictably failed in February. This is the very definition of impunity.
The animating power of Rigoletto's tragic grievance is knowing that the Duke of Mantua can sexually assault women and summarily execute any of the aggrieved. The situation is virtually identical in Don Giovanni: the untouchable Giovanni rapes Donna Anna and kills her father the Commendatore. With cynical accuracy, Mozart understands "the system" will never hold Giovanni accountable, so he instead must invoke the Commendatore's ghost to drag Giovanni down to hell. Since we lack such an avenging ghost, Trump knows he can "grab 'em by the pussy" and get away with it. This is the very definition of impunity.
They are altogether the very definitions of impunity.
Now, you may have noted a conspicuous lack thus far of really digging into Wagner's operas. You're right. Wagner remains one of the most politically problematic composers in history, enough so that Alex Ross has a forthcoming book devoted entirely to that idea. So while I eagerly await my copy, I'd like to offer my own limited perspective — not on Wagner the deeply flawed human, but rather on my experience of the works themselves.
Make Valhalla Great Again
Here's the thing: Wotan is an asshole. He's not the hero. He's not even a hero.
Throughout the course of The Ring Cycle's four operas and many decades, Wotan steals a ring of power from his archenemy (Alberich) and then reneges on a deal with his contractor (Fafner) while continuing to indulge the toxic fantasy that he can bullshit his way out of the mess he's created…but the reckoning is inevitable. (If this seems like it has echoes in our modern politics, that's history being a flat circle again: zero pro-Trump operas.) In my opinion, Wotan is arguably more of a villain than Alberich, because Wotan is the one with the power to do the right thing while Alberich is just pissed and desperate and lonely.
The Nazis famously glorified Wagnerian heroes, but maybe that's telling: Siegfried is an idiot. We spend two full operas with this thick-headed chump. He's technically the "hero," but he's reckless and arrogant and overconfident, and this ultimately precipitates the end of the world.
Alex Ross has argued that Wagner is "the most widely influential figure in the history of music." And since The Ring is Wagner's magnum opus, it's arguably the most influential set of operas in the history of music. I share Ross's view that the themes of The Ring cannot be simply reduced to "Wagner was an anti-semite" (he was) or "that's Nazi music" (it was co-opted). The story is so much more awesome. The larger story is no more Wagner's than The Lord of the Rings was Tolkien's: both men were conduits drawing upon vast swaths of European mythology, including the Middle High German Nibelungenlied, the Old Norse Völsunga saga and Poetic Edda, a host of Icelandic sagas, the Old English Beowulf, the Finnish epics Kalevala and Kullervo, the Celtic Tuatha Dé Danann and Lebor Gabála Érenn, Slavic mythology, and even Greek myth (especially Atlantis). The stories are timeless. For me, the greatest lessons of The Ring concern arrogance and hubris: the 16-hour-long catastrophe basically starts with Wotan's obsession to "Make Valhalla Great Again." He's so paranoid and xenophobic that he violates his own treaties in order to build a literal wall around heaven…and that's just in the first opera.
Works like The Ring compel us to project its themes onto our current times, and to project ourselves into its drama. I'm sure I'm not the first person to think this, but during our spring 2019 rehearsals and performances I began realizing: "we are all Wotan now." We 21st century Americans are too painfully captured in Wotan's arrogance and hubris. It's easy enough for me personally to invoke "Don't blame me, I voted for Kodos," but that misunderstands the true nature of collective responsibility. Like Wotan, we've been barreling onward, evading that collective responsibility or durable collective action. Perhaps it's fitting that the culture that engendered Wagner and The Ring and Wotan also gave us "Vergangenheitsaufarbeitung" — a term coined by post-WWII Germans facing the specter of shared guilt that roughly translates as "collectively working through the painful past."
The story of recent American history is one of us collectively encountering challenges…but instead of introspecting, taking a minute, and thoughtfully reconsidering a different path…we doubled down on injustice. We punched back even harder. We gave in to our baser instincts of revenge, lust for power, and domination. We took that ring, stiffed that contractor, and Made Valhalla Great Again…consequences be damned.
The Ring's message could not be clearer: our arrogant mentality — whether possessed by a single hubristic deity, voted upon by U.S. voters, or manifested by an entire species of homo sapiens — is unsustainable. It's an evergreen message filtered through over 3000 years of human mythology, and we need to heed it.
In The Ring, the world ends in fiery apocalypse…but then the Rhine overflows its banks, douses the flames, cleans the slate, and paves the way for a new beginning. Our own fate is not yet written, and though our own streets are on fire, we still have time to embrace the message of a masterpiece and chart a more just and sustainable course into the future.
Freely to Breathe
George Floyd's final words as a living human being were "I can't breathe." In a final scene of Fidelio, the newly-freed prisoners sing:
O welche Lust in freier Luft
Den Athem einzuheben!
Nur hier, nur hier ist Leben.
Der Kerker eine Gruft.
Oh, what a pleasure once again
Freely to breathe the fresh air!
In Heaven's light we live again;
From death we have escaped.
It is a chorus of the oppressed being freed. And they are aspirational words that never had a chance to be sung by George Floyd, or Breonna Taylor, or Ahmaud Arbery…or Tony McDade, Dion Johnson, Oscar Grant…Trayvon Martin, Tamir Rice, Michael Brown…Eric Garner, Philando Castile, Freddie Gray…and far too many others that could not escape an unjust death.
There are many urgent and righteous calls to action right now. I encourage you to support them in any way you can. And I would like to add my own more humble and personal call to action, one which is at the heart of my central thesis: The Arts can be a powerful force for social justice, if we allow ourselves to be so moved.
I'll never forget a conversation with an acquaintance when I was living in Chicago. She asked what I was doing that weekend, and I replied "playing a concert with the Civic Orchestra of Chicago — you should come check it out!"
"Yeah…I've considered it," she replied, "but…I don't know…I'm honestly just kinda intimidated because I won't 'get it'…you know?"
I cannot tell you how many times I've encountered that basic reply. I'll offer here what I offered then: "There is no invalid experience of Art. However these works speak to you — that is yours. No one can tell you you're wrong. There is no code to crack. No puzzle you must solve. Sure, learning and depth can enhance your experience…but the door is always open, to everyone, all of the time. No matter how you are moved, you were moved, and THAT is the point."
This was still several years before I moved to New York City to join the Met and immerse myself in opera. Now, I would further tell my acquaintance that "a music appreciation class is not a prerequisite for seeing a show. You don't need to know a single thing about music theory or formal structures. The best operas put their messages front and center through their story and their music. I've performed over 70 different operas so far in my 7 seasons at the Met — the bulk of the 'core' — and I can vouch that virtually every single one of them encourages justice, compassion, and love. The main themes of our core repertoire are deeply humanist. So let yourself be moved. And don't squirm if that impulse becomes uncomfortable or political — that very well may be the point."
And Justice for All
The Act I finale of Mozart's Magic Flute erupts in a joyful chorus:
Wenn Tugend und Gerechtigkeit,
Der großen Pfad mit Ruhm bestreut,
Dann ist die Erd ein Himmelsreich,
Und Sterbliche den Göttern gleich.
When love joins with integrity,
and virtue triumphs over vice,
then mankind will be free,
and earth becomes a paradise.
Here in 2020, we are still a long, long way from realizing those lofty ideals. Not all have liberty. As our basic values of decency and human rights are threatened, the authoritarian demagogues at the wheel of our democracy have driven themselves directly into the arena of great works of art. There is a battle waging for the soul of our country in the middle of the biggest global pandemic in a century. I grant that things seem awfully dark right now, but in the very long run I want to bet on Beethoven's "Ode to Joy" triumphing over the ethos of "Shithole countries." I want Verdi's "Chorus of the Slaves" to persevere over separating families at borders and sending toddlers to internment camps. And I want "When the looting starts, the shooting starts" to be obliterated by love joining with integrity, and virtue triumphing over vice.

Comments (note: ad-blockers may disrupt this functionality)